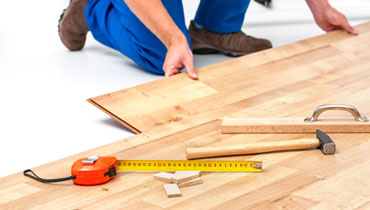 Welcome to Floor Fitting Experts's online help desk and information site, where you can find more information on our floor fitting department in London. We focus our priorities, values, vision and experience in the wood floor fitting area, dedicated to domestic and commercial contractors in order to help you achieve the floor of your dreams. We offer professional hardwood, engineered wood, parquet and laminate floor fitting with an individual approach to any client, at affordable prices, in a timely and effective manner and according to the highest safety and work standards in London. We are also proud of our wide and loyal customer network in the area and heartily invite you to be part of our community and to experience the great installation we can offer.
In order to make your dream come true, our experts are ready to help you with a lot of prior advice and tips. Check our buying guide and keep in mind you can always ask us for a professional opinion on what is most suitable for your project and the best options for materials in the town. In addition, our technicians provide free site visit in London in order to have a closer look at the room where floor fitting is planned and to suggest the best battle plan, depending on the dimensions, environment, humidity, etc. to prevent problems during the installation process and future flooring issues. After the prior preparation we provide and which is essential for the success of the project, including preparing the subfloor and acclimatising the material, the floor fitting process can start. No matter what your material of choice is, you name it, we do it! There is nothing too challenging or too new for us!
For so many years on the market, we at Floor Fitting Experts have gained a lot of experience also in the commercial floor fitting area. Some of the most statement floor projects in the area are our job, including installations for offices, schools, clubs and bars, retail and showrooms and many others. Our fitting department offers a great selection of installation styles, suitable for every room and environment, even for challenging angles, uneven and damp subfloors, unsecured pipes and cables and high traffic areas. Contact our customer service for more information and browse our portfolio section for inspiration and ideas!
Our Services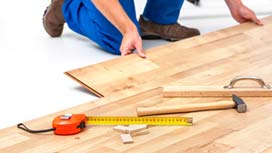 The proper maintenance and care can ensure the long and happy life of every wood floor construction and the lasting power of its finish. The most essential part of owning wood flooring is having it installed successfully after a prior preparation of the subfloor, moisture levels check and acclimatising the lumber material to the new environment. Our experts can offer you the best floor fitting services in London, providing professional performance and an individual approach! Contact us for affordable, timely and efficient options!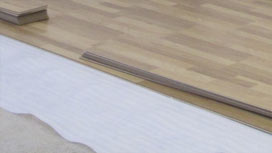 Commercial floor fitting requires a lot of experience, because of the dimensions of the project, the limited time and budget. Our company has enough experience, knowledge and information on all wood species and installation options so we can find the best option for your London commercial floor fitting plan. We won't neglect any necessary stage of the process due to limited time or other reasons. Our approach is time-proven and successful, our performance – timely and affordable!
Dear Dimitri, Thank you for completing the work on time and to a great standard. I am very pleased with your team who worked swiftly and cleanly. I am very pleased with the finished product which I hope we will enjoy for many years to come.
A job done very well. Thank you.
Very happy. Very good overall.
Very happy with quality of the flooring and the standard of the fitting and service in general.