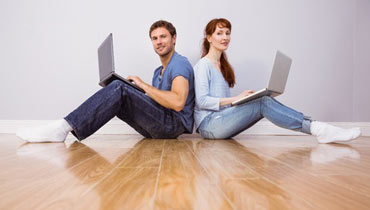 Client's positive testimonials for us have the same value of an Oscar statuette for an actor. Your positive feedback is equivalent of the highest rating in our branch, makes us proud and stimulates us to get better and to improve our work. Based on our hard and responsible work, care and individual approach, we've managed to build a wide clients network all around London area, which is characterized by long-lasting relationships, loyalty and consistent customer care. Because of that feature of our services, we at Floor Fitting Experts believe that this is a two way street.
We highly appreciate your feedback and always take note for the details we can improve and what you desire. We are glad, when you leave us a comment, so please, fell free to do so. Share your thoughts and ideas with Floor Fitting Experts and the other visitors of the website, share your experience with our flooring services! Thank you for taking your time!
Testimonials
Dear Dimitri, Thank you for completing the work on time and to a great standard. I am very pleased with your team who worked swiftly and cleanly. I am very pleased with the finished product which I hope we will enjoy for many years to come.
A job done very well. Thank you.
Very happy. Very good overall.
Very happy with quality of the flooring and the standard of the fitting and service in general.
Very happy. Good team of men.
Wonderful job done. Quick and efficient. Very pleased.
Wonderful job done. Quick and efficient. Very pleased.
Please say thank you to the guys- they did a great job!
An amazing job!! So happy with it. Really, really good. Thank you.
Fantastic job. Super professional. Value for money.
Very happy with the service. They worked hard + efficiently.
I am very pleased with the work. Excellent.
Excellent job. Well pleased! Very good worker. Thank you.t.
Excellent job - very caring and lovely.
I am very pleased with the floor and how efficient every body I dealt with was.
Iliyan excellent work, fantastic. Job well done. Thank you.
Please pass on the message to the two workmen that worked tirelessly and with much helpfulness and respect for all here at St Raphael's. They completed on time and did an excellent Job. The floors have now been saved for many years to come and that we are grateful for.
I am extremely happy with my new floors.Your team were excellent from being bang on time to leaving the house probably better than they found it.Thanks again to you and your team for such a superb job.
The two chaps had left before I arrived home yesterday so I didn't get chance to thank them for the work. Please do pass on my gratitude to them both. The floor looks absolutely stunning - they were extremely efficient, helpful and reassuring and I am extremely impressed with the service. Many thanks for your help and I will certainly recommend your company to friends who need flooring restoration in the future.
I would like to say big thank you to the person who did the job. My floor is beautiful and looks even better than when was done for the first time. The person was very kind and did the great job. Now I'm looking to organise floor restoring in my other 3 rooms which I would like to be done by the same person.