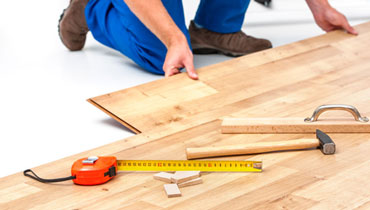 Wood floors are a great investment and can add elegance and warmth to every home or office room. The wood material is easy for maintenance and cleaning. It comes in different variations, patterns and styles and a great selection of various installation methods. It is also adaptive to almost any kind of subfloor, angles of the room and environment. No matter if you choose one of the more expensive solid wood timber or parquetry options, or you set on the alternative of affordable engineered wood flooring or laminate, the proper maintenance and cleaning strategy guarantee the longevity of your wood floors. Well, there is one more key moment you have to consider and this is the fitting moment. The proper fitting makes the wood installation durable and keeps the finish fresh and clean. If you plan a flooring project in London, you probably are on the hunt for a reliable floor fitting company and we can help you.
Every fitting project we undertake, we start with a necessary preparation. Our methods guarantee successful results and amazing outcome. No matter if it comes to installation over the bare subfloor or over already existing flooring, we always do professional cleaning. Dirt particles can fail the whole project since dust can react with the wood adhesive and cause loose planks. The moisture level check is another essential part of the preparation process since the damp base can cause wood "ballooning" and cracking if structural gaps are not left between the planks and the wood material and the walls. Finally, the alignment of the subfloor is important for the upcoming installation process. When the base is not levelled, the fitted timbers and planks on top won't be even and smooth, if they are glued or nailed directly. However, for subfloors, which can't be levelled for some reason, there is always the option of the laminate floating installation or applying insulation underlayment.
Solid wood floor fitting is one of the most challenging installation projects because hardwood timbers are made completely from real wood and come with the natural structure and character of the lumber material. For best results guarantee, the timbers should be left unwrapped in the room where the laying is planned in order to acclimatise to the environment and humidity. When our team of technicians prepares the room, cleans the subfloor and takes care of the rooms and areas around in order to prevent contamination, remove doors and trims, then solid wood timbers can be installed.
Parquet floor fitting is the most challenging case in general. With the variety of patterns, creative designs and complex styles with parquet blocks fitted in different directions, parquetry is rather left to our professionals in London. Browse our portfolio to get inspired by our statement parquet fitting ideas and projects. There you can find also amazing examples of our engineered wood and laminate floor fitting projects in London. Laminate and engineered wood planks come in a tongue-and-groove installation system most of the time, which makes fitting easy and timely. However, you can guess the experts by the perfectly fitted planks, since mistakes are likely to happen even during laminate installation. Don't put your whole fitting project in London on risk and better book an appointment at Floor Fitting Experts on 020 70360624.
Testimonials
I am completely impressed by your potential, knowledge and the innovational ideas you suggest. I will recommend you to my business partners and friends!
My positive impressions start with the customer service and then continue with the professional work you have done with my parquet wood floors.
Thank you very much. I am completely satisfied with the result and also the timely performance. The wonderful prices are not to neglect, also! Super deals!
Martin is very experienced and friendly, I recommend you to ask for him when making an appointment, he has a lot of potential and creative ideas!
Besides the wonderful prices and the excellent job done for my bedroom hardwood flooring, Martin, the master who visited me, was super friendly and knowledgeable. In addition, he has done his job in no time and really clean. Thank you! When planning a floor remodeling for my office the next month, I will definitely contact you once again.