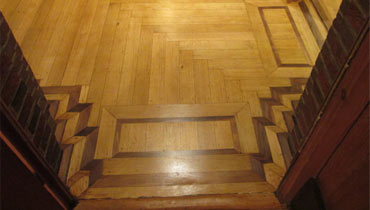 We at Floor Fitting Experts know what a restaurant floor fitting service in London should offer and how the wood installations in a commercial building should look and feel. The professional installation service provides excellent results in no time, at an affordable price and without hassle in order to provide the perfect start of your business or to save you time and energy if your business is in a restoration break.
On the other hand, the perfect looking floors will draw clients in, creating a cosy, professional and nice ambience and promoting the brightest side of your business, working as a perfect background for any cuisine, decoration and style. But it is not only about the good and beautiful look and let's talk long-lasting effect and durability. Restaurant floor fitting requires a lot of attention and hard work, without rushing out any necessary service step, in order to create not only longevity and sturdiness but also to prevent eventual future issues and problems, such as loose planks and nails, high traffic damages, wood cracking.
In addition, one of the best features of the commercial wood installation projects is when the flooring is low-maintenance and easy to clean and take care of. Finally, you can get all this – the good looks, the professional and timely service, the maintenance and prevention advice and the pleased clients, thanks to Floor Fitting Experts in London. Don't hesitate to contact us now!
Let's discuss the restaurant floor fitting options you have in London. We provide a full list of wood species installation alternatives and fitting methodologies, suitable for every wood and wood-imitating type – solid, engineered wood, laminate, parquetry. It is our first class menu, which can be envied by even the best restaurants in town. We know the right proportions, spices and products in order to create the perfect restaurant floor fitting service, such as you crave to achieve the best and the tastiest dish possible. And we guarantee that we provide the same performance and practice with every one of our commercial contractors.
Firstly, our restaurant floor fitting service starts with a free site visit in London, so our experts have the chance to inspect the environment and to suggest the best alternative. Don't hesitate to contact our customer service for the ultimate best deals buying guide if you are planning a wood floor installation. In addition, our technicians will provide more information on the best flooring options, depending on the area where it will be fitted and the expected high traffic. After ensuring the subfloor is ready for the upcoming installation, which includes moisture check, levelling and cleaning in order to prevent future issues and unstable construction, our restaurant floor fitting crew can start the main laying procedure. Every type of wood installation needs a specific methodology for best results and you have to hire an experienced and well-trained company. Our staff know the proper strategy and how to deal with the uneven or damp subfloor, choosing the best installation type and working with first-class quality products and equipment.
Testimonials
I have a small restaurant in the area with really strange setting and dimensions and these people have done miracles by fitting an amazing parquet floor.
Stanislav and George are excellent workers. I am completely satisfied and will recommend you to everyone I know planning an installation project.