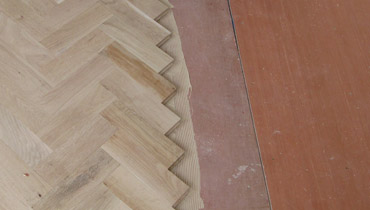 Imagine parquet floor fitting like a puzzle – every piece should be fitted in the right place in order to create the perfect picture. The same goes for parquet floor fitting – every wooden block has to be laid in perfect composition, creating the right dimensions and art of the pattern. Well, if parquet floor fitting comes in one or two designs it wouldn't be a science to achieve the perfect result. However, this type of parquet floor fitting is popular with the variety of patterns, designs and styles, fitted in different directions and compositions and the installation options get even more creative and complex with time. Challenging angles, plaids, and mosaics make parquet floor fitting not your typical DIY project, so better count on the experienced professionals in the London area.
Parquet floor fitting is great not only because of the wide range of styles, suitable to every interior design choice but also because parquetry blocks are made completely from hardwood material, cut in small parts. Unlike solid wood fitting, parquet floor fitting is more laborious because of the smaller dimensions of the materials and can take some time for perfect results. In addition, because of that fact, parquet floor fitting comes in so many variations of wood species, you definitely must have experience and knowledge in order to find the best installation strategy for parquet floor fitting - every type of wood, knowing its potential to get thinner with time, to soak the finishing product and to change its dimensions due to the humidity and temperature amplitudes in London area. We have a lot of experience with parquet floor fitting since parquetry has its established traditions in the London area.
Parquet floor fitting requires a precise preparation plan before fitting. Checking the moisture level of the subfloor, being concrete or plywood, cleaning and levelling is part of the prior service of parquet floor fitting. Our experts will also take care of the surrounding areas according to our high dust and dirt control standards, providing dust sheets when parquet floor fitting needed and also removing doors and trims for super detailed and perfect results for your parquet floor fitting. Keep in mind that although parquet floor fitting structural gaps are left during installation in order to allow the wood's movement and "ballooning" with time, without causing cracking, you can't skip the moisture check and our technicians may suggest you for parquet floor fitting to do underlay installation, working as moisture, acoustic and insulation barrier for due of parquet floor fitting. The proper preparation is your guarantee for preventing future issues since parquet floor fitting and restoration are not that simple and tend to be expensive.
Unlike engineered wood and laminate, parquet floor fitting is laid directly on the subfloor. The parquet floor fitting has a tongue-and-groove installation system and can be glued or nailed together. You either apply wood adhesive to every single block and press it to the neighbour one or nail each other, where nails will be hidden. If you are planning a parquet floor fitting in a London room with challenging angles and curves, hiring a professional is even more essential, because you need the perfect parquet floor fitting, since wood blocks are not that affordable.
If you need even more information about wood floor fitting, feel free to contact our experts on 020 70360624.
Testimonials
I am completely impressed by your potential, knowledge and the innovational ideas you suggest. I will recommend you to my business partners and friends!
My positive impressions start with the customer service and then continue with the professional work you have done with my parquet wood floors.
Martin is very experienced and friendly, I recommend you to ask for him when making an appointment, he has a lot of potential and creative ideas!
Hello, just wanted to update you I have installed parquet wood floors in two rooms of my house for already 6 months and following your advices they look like brand new. Thank you!
More than what we have expected! I've never seen such a beautiful parquet flooring in my life, will update you soon how the things are going.