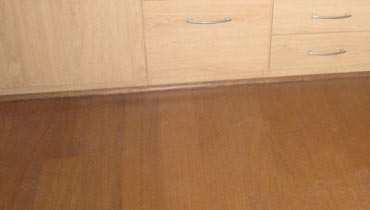 We at Floor Fitting Experts recognise the needs and specifics of the office environment and that is the reason we designed the perfect office floor fitting service. This includes all the necessary stages in order to end up with professional looking and long-lasting results on your office floor fitting and excluding everything unnecessary and meaningless, in order to save the time, money and energy of our clients. With that been said about office floor fitting, let's have a closer look at our wood installation practice all around the London area. Keep in mind there are not too small, too big or too challenging projects for us and we can help you in any scenario. You can browse through our gallery section for more inspiration and ideas for your office floor fitting or household fitting. In addition, we cater to all your needs and desires for office floor fitting, and we provide solid, engineered wood, laminate, and parquet installation, according to the highest standards in our branch.
The office floor fitting in particular wood floor fitting is a process, which demands a lot of dedication, attention to details and hard work. In the office floor fitting everything starts with the installation and if done poorly or without the important prior preparation, future issues like scratching, loose planks and wood cracking are likely to happen. If you want to ensure the longevity of your wooden construction at the office floor fitting in order to enjoy it for years and save yourself money and time, you definitely want to bet on experienced experts with proven and successful praxis, such as our technicians from Floor Fitting Experts in London.
We know the good looking office floor fitting and convenient working space, which requires less maintenance can not only make your working day pleasant but in fact, will look super professional for your clients and visitors. The perfect condition of office floor fitting will work for your good name in your branch as a sign of competence and attention to detail. In addition, you may worry that the office floor fitting process will require a lot of time, but our services are well organised and timely and our staff is disciplined and has a lot of experience to do the job perfectly om the office floor fitting or any other cases, without rushing out anything important.
Our office floor fitting service starts with a free site visit in London. That way we have the chance to diagnose and inspect the environment and suggest the best wood flooring option for your office floor fitting in the specific case. Remember, not every type of wood or installation practice on the wood floor fitting can be suitable for your room, so better count on the experts to share their professional opinion. Next is the expert preparation we provide for office floor fitting to ensure the smooth going installation process and the perfect result at the end.
To do office floor fitting perfectly we always check the moisture level of the subfloor, being concrete or plywood, because humidity and damp base can cause the "ballooning" of the wood in future and the same could happen in the office floor fitting if the wood material is not left to acclimatise to the environment in the room before laying. When we are sure the materials and the subfloor are ready (it is dry, completely clean and levelled), then we can start with the exact laying process on the office floor fitting. Floor Fitting Experts has specially designed a methodology for laminate, parquet, hardwood and engineered wood on your office floor fitting to create the best-looking floors in London in a timely and professional manner.
Testimonials
Great company to count on. I am satisfied.