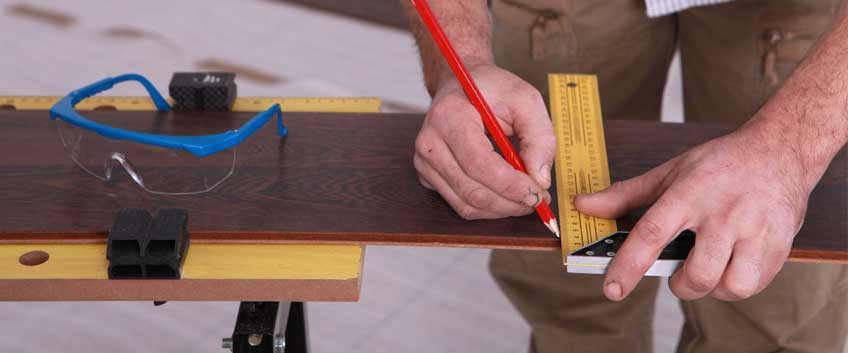 Wood flooring installation specialists are pretty jealous when it comes to giving advice on successful and easier DIY wood floor installation, but this is not the case with us. Today we are sharing with you the basic and most essential tips and pre-steps of a successful wood floor fitting at home, so keep reading, if you are planning to DIY! There are several basic steps you have to be aware of when starting a DIY project. If you make sure to follow our recommendations, we guarantee that the whole process will be less time-consuming and complex for you.
The first thing you have to start with is creating a list with the tools needed. You have to be aware of all the tools you are going to need and where you can find, buy or rent them from. In some situations purchasing all the tools need may turn out to be even more expensive than hiring a professional service, so be aware of this fact. Some of us tend to ignore preparing the tools right before starting with the project and this leads to discomfort during the process of fitting. Checking your subfloor as detailed as possible is a key factor for the whole project. If the subfloor is not prepared, or it faces some issues, the chance of you ending up with an imperfect wooden floor is very high and the final result may require repairs and reparation work such as levelling, sanding and more. Ensure a smoothly-running installation process and the desired final look by checking the moisture level of the subfloor, especially if concrete and also how uniform and clean it is.
A great way to save money is by re-using the already existing skirting boards unless they entirely do not match the new flooring. However, in order to re-use them successfully, you have to remove them with caution in order to save them in good condition and look. Be attentive when removing any skirting board from the old floor and then sand and paint it before installing the board back. Prior research plays a vital role or the whole wood floor installation process. Make sure to research your options and find the methods that work the best for your situation, for your flooring and, of course, for the room where the floor is going to be installed. Take a look at what is expansion gap and why it is so important for long-lasting flooring. Inform yourself as much as possible, you can always rely on us for additional tips and recommendations.
Be aware that both the subfloor and the materials need some time before installation. Wood boards need a few days to acclimatise to the new environment. On the other hand, you have to make sure that you allow enough time for the subfloor to get completely dry. There are few basic criteria the subfloor must meet in order to work as a perfect base for long-lasting and hard-wearing wooden floors: the ideal temperature of the substrate and site while installing is around 18°C, while indoor humidity have to be lower than 60%; concrete subfloors usually require protection against moisture and a moisture-proof underlay membrane installed above; the subfloor must be sufficiently level.