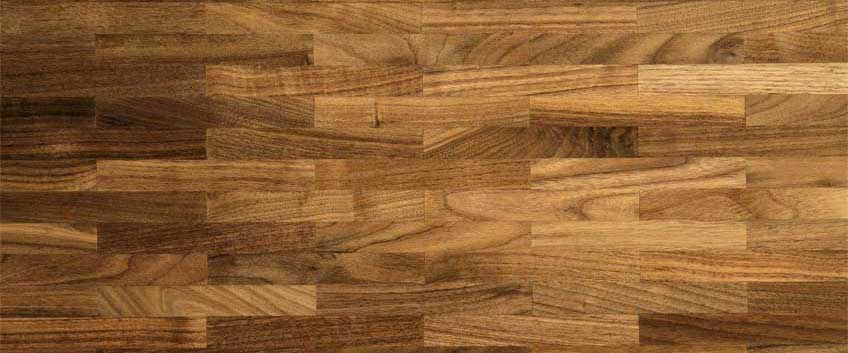 Walnut is equal to Rolls Royce in terms of wood flooring because it brings a unique, very elegant and classy, even dramatic and luxurious vibe to any room where installed. In fact, walnut wood flooring is the best choice for people, who want to create great colour contrast and add this luxury feel to the room, working as a simple and elegant backdrop for stylish and bold furniture pieces and decoration, or being the focal point impressing your guests and visitors.
Walnut wood species come in great colour and texture variety. The more expensive walnut planks are made from the heart of the wood and are in dark and very sensual chocolate browns often with purple veins and hints. Another option is the planks made from the younger rings of the tree and has a lighter colour and almost white veins and hints. One thing you have to remember when purchasing walnut wood flooring is that the colour will darken with time and become more deep and dramatic.
As it comes to the texture and the grain of the wood species, walnut often comes with very clean lines, however, if you would like, you can find also a more rustic grade with natural texture and pattern of swirls and knots, which will add the more unique appearance of the floor. Walnut, although the darker shades it comes in, is often recommended for both spacious and smaller spaces, because of the clean lines and cold undertones that add this infinity feel. Walnut is also suitable to almost any style, suiting very well contemporary, industrial, urban, classic and elegant interior designs.
However, the benefits and advantages of walnut wood species come not only from the genuine and beautiful look. Walnut is also one of the most durable and solid wood species around, very hard-wearing and shock-resistant. Perfect for long-lasting flooring, walnut timbers are often installed in rooms, where frequent traffic and a high level of everyday use are an issue. Walnut is often used for manufacturing solid wood flooring and engineered wood flooring and this gives also great opportunities and flexibility in terms of installation.
While solid wood timber is mainly suitable for areas with lower interior humidity and calmer environment such as living rooms, bedrooms and lounging areas, walnut engineered wood planks are the perfect solution for kitchens, bathrooms, basements and conservatories and also over an underfloor heating system and over a concrete subfloor, which can't be even or dry for some reason. This pretty much means that you can enjoy the beauty and stability of walnut wherever you want it in your house or office and working space. Well, it is easy to understand why walnut wood species is a really popular and preferred option nowadays (and also in the past). Having walnut wood flooring you will enjoy a dramatic and luxurious beauty combined with a lot of long-lasting power and durability.