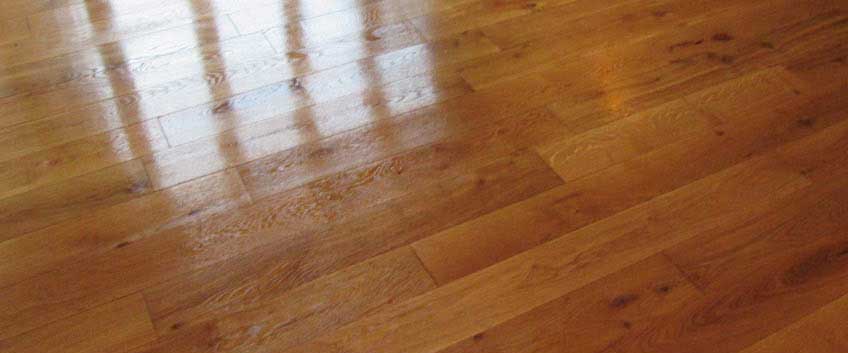 There is no doubt wood flooring adds a lot of value to every space and many see a connection between properties with wood flooring installed and their higher selling price and the less time it takes for them to be sold on the market. In fact, wood is a sustainable choice, not losing a bit from its popularity for so many decades it is available on the market. There are so many wood species options now, which are used for manufacturing the two main types of wood flooring - solid wood and engineered wood.
Solid wood, as the name suggests, is made from one single piece of wood and is often referred to as "real" wood, coming in many styles, colours and textures. Engineered wood is the contemporary option of solid wood, made from lumber or plywood, with thin layers glued together and topped with a real wood veneer, created to guarantee extra durability, longevity and sturdiness. The choice between them both comes down to personal preferences, of course, but they both have their benefits to offer to your property.
Today's topic is suggested by our London flooring experts because they are often asked about the pros and cons of the wood species. Since oak wood is the most popular type of wood used for manufacturing flooring materials, here we want to have a further look and answering the question of why you would like to purchase oak wood flooring. Oakwood is popular for a reason. It is known to have an extra durable and solid structure, which makes it preferred in commercial premises, residential homes with pets and children and overall, areas, which experience a high level of daily use and traffic. Oakwood comes with great shock resistance and is also hardwearing.
It is a hardly known fact oak species come in red and white oak. White oak is usually a light, pale and airy shade with a silver undertone, which makes it perfect for smaller spaces because it makes them appear larger. Red oak is another option to make the room looks spacious, because its light shade of red, almost salmon pink, adds an airy feel while being unique and different. Both oak wood species are great interior option in terms of style, because they both complement any design, furniture piece and decoration, working as a simple and not distracting background, suitable for traditional and contemporary spaces.
It is easy to see why oak wood is a flooring option, growing rapidly in popularity. We can say, for sure, oak wood becomes a classic option, often found on different premises, winning fans all over the world. Oakwood is also great for the reason it is easy to be customised in the preferred colour. Because of its light grain and simple texture, especially for white oak, dyes and finishing products adhere amazing, creating great colour contrast. As it comes to red oak, it comes more texturised, meaning finer scratches are completely no visible.