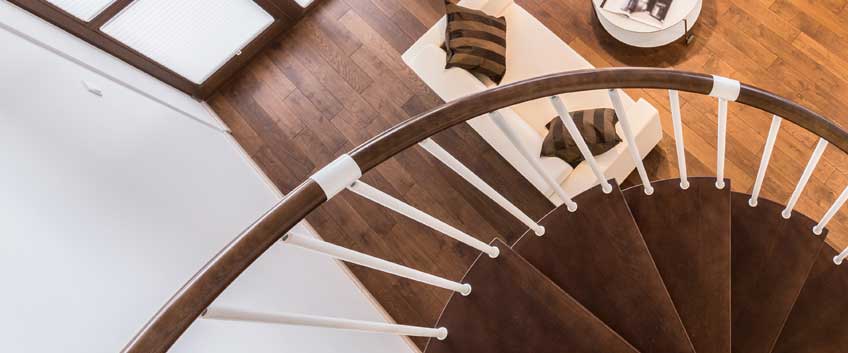 Hardwood flooring itself is a real statement feature in the interior design of each space. Beautiful and stylish, elegant and classic, interesting and adding a lot of character, we are sure that all of us love hardwood and feel very excited when purchasing a new wooden floor. However, each new purchase brings us to the fact that no matter how happy you are with what you are going to get and no matter the fact that your new floor meets your requirements and personal taste perfectly, there are still a few things you have to keep in account, like, for example, how are you going to match your new purchase to the rest of your home or workspace.
We are talking flooring transitions, we are talking matching your hardwood floor to an existing wooden stairway, we are talking about the perfect match. Today we are going to discuss one very important point of the upcoming installation process that is essential to consider even before this initial process, today we are talking about how to marry your wooden floor to a wooden stairway.
Here is how to match your hardwood flooring and your stairway into one continuous piece of amazingness:
Consider having your floor and stairway wood treated like stained and finished by the same person, so you can be sure that you will end up with a super uniform, sleek and even look. You know that most of the professionals have their own working method and sense of beauty, no matter they are all taking into account your requirements and desires. So different professional contractors will give you most probably a slightly different look, because of that working with one person on both projects is the best idea.
When your floor is prefinished and your stairs are prefinished too, ask in advance for samples so you can get as close as possible.
When it comes to the natural interest of wood species, do not rely on the fact that wood species of the same sort will come in exactly the same colour and appearance. It is hard to achieve an even look for your floor only and it is even harder to do that for both the floor and stairs. Hickory, for example, is great, but hickory is offered in different colour variations on the market. The same applies to most wood species, so be sure to shop from one supplier, if possible.
Let's say that your floor is hand-scraped and you want the same look for the stair treads to match, then be sure to hire a custom stair manufacturer who has the skills to do this, otherwise, you risk difference in appearance.
It is like hitting the jackpot if the same person installs your floor and your stairs too, but this rarely ever happens. When hiring different people for both projects, the best thing is if they can work together, so they settle on a similar style of work and treatment for achieving an even look and appearance.