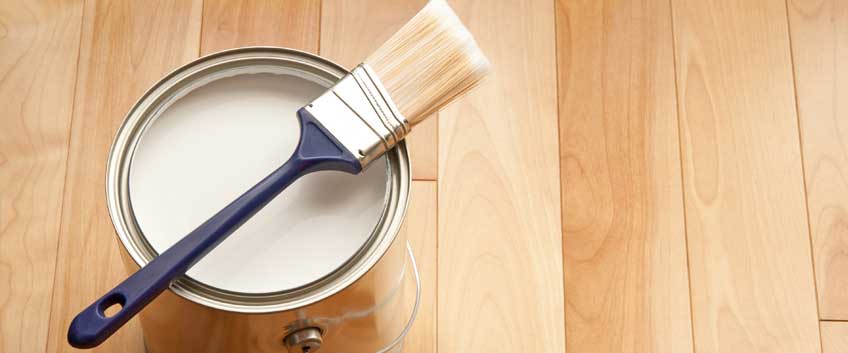 Solid wood floors are beautiful enough by themselves, however, they dramatically need a finish. A wood flooring finish is important not only for the appearance of the wood, providing it with a glossy or matt effect, a bit of colour or a clean look, but the main matter of the finish is adding protection and preservation of the colour, texture, grain. A wood finish's job is creating a layer of protection on the surface and also penetrating into the wood's porous structure so it can make the whole wooden construction strong and hard-wearing from within too. The correctly selected finish will offer a lot of benefits for your wooden floor and to you too. It will make your cleaning and maintenance routine a lot easier and shorter, it will prolong the life of your floor and it will also add a visual improvement. How to choose the correct finish for you?
In a nutshell, there are a few general types of wood flooring finishes, depending on the basis agents included in the ingredient list of the product and all of them work differently, is highly recommended for some types of floors and wood species and not the best option for others. Depending on your lifestyle and requirements, the finishes are also determined by their lasting power. Let's have a look at the various finishes and we hope that we will help you make a better choice.
Lacquered
In case you are a fan of the rustic, almost rough wood appearance, then lacquered finished floors are right up your alley because they will show some colour variation and knots too. If you find this visual appearance a massive issue, then we recommend you consider purchasing laminate instead of this option. Lacquered solid wood is really easy to maintain and clean. Wood and finish are also extremely hard-wearing and long-lasting, significantly less prone to scratches, scrapes and stains. This is also a perfect option for high traffic and heavy footfall areas because of the strength of the finish.
Brushed and lacquered
With brushed and lacquered solid wood you get the best from both worlds – a lacquer will provide you with super hard-wearing protection and won't show scratches at all, while the brushed effect will hide the wear and tear perfectly, absorbing the natural light and making scratches almost unnoticeable for the eye. A brushed and lacquered solid wood floor has a lot of character and natural beauty highlighted, having more natural features like knots, rings and grain lines. You also can get varying degrees of glossiness and find what you like the most. That way finished, solid wood flooring gets really easy to maintain and clean.
Brushed and oiled
With brushed and oiled solid wood timber you cannot get any more natural look and feel than this! Enhancing the natural beauty of the wood species and highlighting its character, brushed and oil finished floors are a statement piece and a focal point to any room. The oil finish usually has a UV filter added, so it will additionally protect the wood from sun damage and discolouration. A brushed floor will also hide those scrapes and scratches much better, looking like brand new for many years.