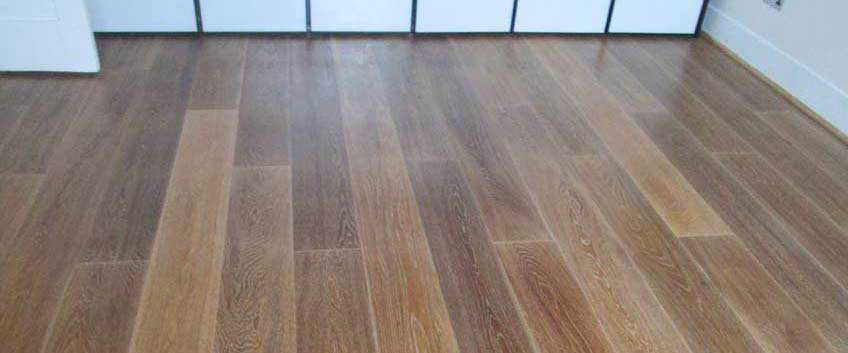 We have made a little research and asked many people what they believe is the best flooring option for the kitchen. When it comes to kitchens, people understand that as a busy traffic and everyday use zone, which requires more maintenance and cleaning and is often bonded with the use of water and temperature amplitudes, which is a good thing to keep in mind these specific features for this area of the home in order to make the best choice of flooring, which will last as long as possible, without experiencing very serious issues. So, on our question, people often answer that tiles, marble or slate are the most appropriate and effective flooring options and often will tell you that wood is a big no-no.
In fact, solid wood floors are really not that appropriate for this area of the house. Solid wood looks amazing and adds a natural cosiness, elegance and beauty and creates an inviting setting for people gathering around the dining table and enjoying their meals and celebrations. However, solid wood has a pretty sensitive character and is easily affected by humidity, moisture and high temperatures. As the name suggests, solid wood timber, also known as hardwood, is made from one single piece of wood.
Wood is a natural product with a structure of fibres and for this specific structure, real wood will experience some changes with time, when arranged in the domestic setting. The biggest enemy of hardwood is definitely water and moisture and also the high-temperature amplitudes, which make the timber contract and expand and can lead to losing, cracked or broken planks. Solid wood is also not that hard wearing and tends to suffer scratches, dents, marks and non-structural gaps, especially if the top layer of finishing product is already worn out and the bare wood underneath is exposed to heavy footfall and everyday use.
Well, there is some good news, because if you dream of wooden floors in your kitchen, solid wood is not the only alternative. Engineered wood is another very popular option nowadays and many people opt for it because it looks and feels exactly like real wood. However, engineered wood is made to be more solid and shock-resistant than hardwood. It is made out of layers of softwood or plywood, glued together crisscrossed, so that the structure allows engineered wood not to suffer the impact of humidity and high temperatures. During the installation process, some gaps are left in order to allow the slight movement of the planks and that way many issues are prevented. In addition, engineered wood is topped with a thin layer of real wood, but very hard-wearing, which makes it perfect for busy traffic areas.
In order to keep the engineered wood floor in flawless condition for as long as possible, our London sanding and maintenance experts recommend some maintenance and cleaning routine. First of all, be sure to remove any kind of spills and stains immediately with a damp mop, otherwise, they could stain the surface. Make sure your plumbing is working ok to prevent excess water on the surface of the floor. Some professional maintenance services such as recoating, polishing and sanding are recommended from time to time for perfect appearance and prevention.