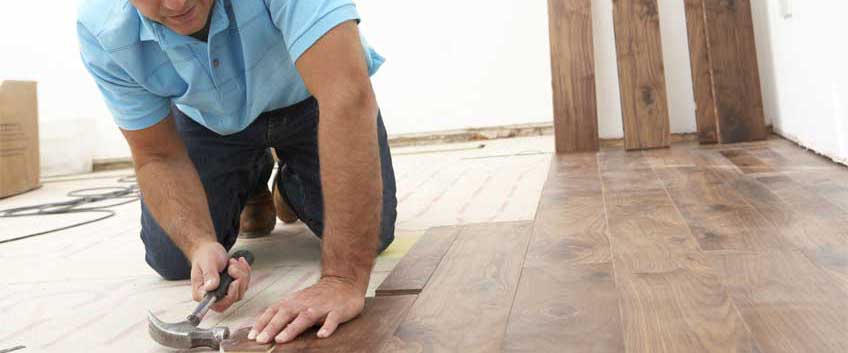 The reason because engineered wood is more versatile than solid wood and for that reason gains more and more popularity nowadays is its specific structure. Engineered wood is man-made from real wood products and doesn't have to be confused with laminate, which is unnatural material. However, engineered wood reminds us of laminate because of its smart and very functional and resistant structure. Engineered wood is made from a layer of softwood and plywood, which are glued together creating a solid wooden core then topped with a hardwood layer originally called "lamella".
The impressive part here is that the layers are glued together crisscrossed, which is a successful concept developed in order to be reduced the impact of humidity and moisture and the damage they may cause. Wood, in general, as a natural product has a porous structure, which is easily affected by changes in the environment such as temperature extremes and humidity amplitudes. Because of that characteristic, wooden products start to contract and expand when the interior humidity reaches a higher level, which can lead to major issues. To prevent that, the crisscrossed structure of engineered wood and the expansion gaps left during the installation process allow the slight movement of the planks, which naturally will get back to their initial condition.
When it comes to parquetry, here we won't talk about functionality, but for real art. Parquetry is considered a real art piece under your feet because of its unique way of installation where geometrically cut wooden blocks are arranged in a variety of pattern and designs for a one-of-a-kind look. For years parquet floor installation used to be a job only for the really experienced and knowledgeable professionals because of the complex patterns, which require a lot of hard work, attention and talent to be achieved. However, with the industrial progress of the dynamic wood flooring world we have witnessed for the past few years, there are many alternatives and options nowadays, which are developed not only to look beautiful and genuine but also take less time to be installed and are way easier to be maintained.
Engineered wood parquet is part of the industrial betterment in our branch. As the name suggests, engineered wood parquet is made from engineered wood geometrically cut blocks, arranged over a panel for quicker and easier installation. In addition, because of the material the blocks are made in, these types of floors can be installed exactly anywhere, unlike the traditional parquet floors, which are made from solid wood, which is sensitive to the impact of the environment and suffers wear and tear quickly. As we have already mentioned, engineered wood can be installed practically everywhere, because it is resistant to moisture, humidity, temperature extremes and very hard-wearing. Imagine that you can finally get the desired look for your bathroom, kitchen, even basement without worrying about the condition of your floor. With engineered wood parquet you have everything – the look, the functionality and the resistance!