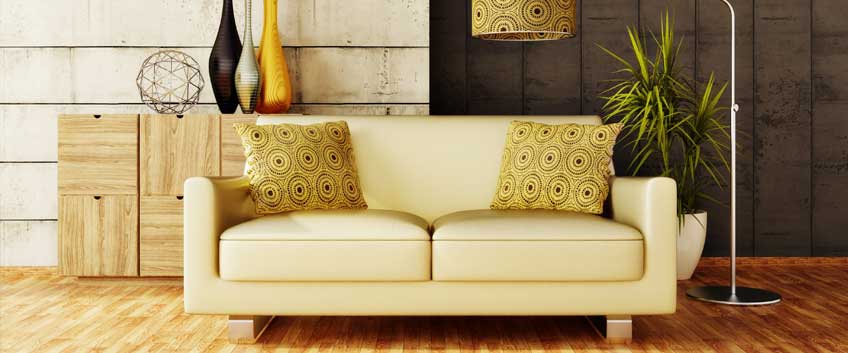 Wooden floors are all very beautiful, their wood species, their colours and their textures. But they can look even more beautiful if you make them stand out by accentuating their natural beauty with well-matched furniture, decorations and style. Of course, you can make a beautiful wooden floor look more simple and not that appealing if you do not match the entire style of the room properly to the type of wood and finish. When buying a new wooden floor, or when planning to re-decorate your entire room, you always have to think of matching in order to highlight the beauty of the floor and of the décor too.
Add plants
What better thing to compliment the natural beauty of natural wooden floor than plants? Of course, both accents of the style go hand in hand and plant life can perfectly match the whole atmosphere and create a very natural, easy and airy look. In addition, vibrant green is very well-matching the tranquil and cosy hues of brown and yellow.
Add a pop of color
Wood can be very naturally detailed, rustic and patterned, but if your wooden floor has a simple grade and is more on the minimalistic side, you can easily make it stand out and attract eyes by adding a pop of colour, or an interesting pattern and a twist of excitement, by adding a beautiful and colourful rug or runner. A luxurious rug can make even the most simple and minimalistic floor look very expensive and add a specific atmosphere. If your room is very big, empty space might be a problem, so if you need to fill up some space, colourful rugs are a very smart and inexpensive choice.
Light it up
Light is very, very important when it comes to the whole atmosphere and feel of your home. Light and the right illumination can make big favour to your wooden floor and complement its natural colour or specific finish. Standing lamps are a great way to make the whole room look extra cosy and to bring out the natural warmth and cosiness of wood, show off the sleek finish and reflect light around the whole room.
Be inspired and creative
Decoration is very, very important for adding to the final look and feel of the room. By playing around with certain style and décor, you can easily achieve the feeling and atmosphere you are looking for. For example, adding a few antiques around the room will work perfectly with wooden surfaces and bring out a lot of classiness and elegance. You can also do items like eccentric and bold, or very elegant and classic furniture pieces. Mix and match and find the best balance you are enjoying and that make you feel cosy and nice when spending your time in the room.
Here you have them, a few amazing ideas you can successfully incorporate and mix with wooden flooring and make it stand out and look even more amazing.