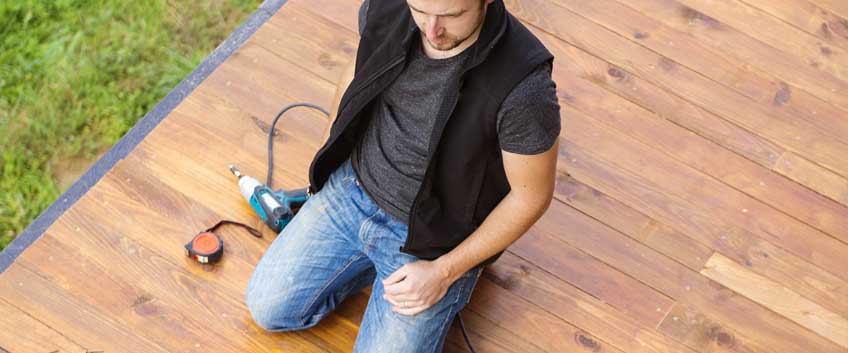 You know that wood flooring is not only for inside the house and the office, right? In fact, exterior wood flooring can add a lot to your garden or yard on a decent price and with the guarantee to survive even the hardest and most aggressive moods of Mother Nature. Wooden decking can create the perfect spot for relaxation and entertainment in your yard and garden you can enjoy in the warmer days when you want to spend some time outside, but still want to have the privacy of your own domain, or when you want to achieve the perfect atmosphere for family gatherings and dinners with your friends. Yes, wood decking for the outer areas of the house are great and among its main benefits is the fact that a wooden decking outside requires easy maintenance, it is not expensive, it is hard-wearing and long-lasting and you will enjoy it for many, many years, that is for sure. Not to overlook the fact that wood decking is great for outer spaces, because, after all, wood is going to be in its natural habitat and perfectly compliment the appearance of your lovely garden or yard. Let's have a look at the most popular trends for exterior wood flooring right now.
Hardwood or softwood?
When shopping for exterior wood flooring, the latest trend reports are not the only thing you have to take into account. In fact, there are many important things you have to consider what will work the best for your particular project before you purchase and you have to take your time and do your research. Well, this is the point where many people give up or end up getting forced down making it not the best choice by pushy salespeople. Today we will discuss with you not only the latest trends for composite wood decking, but we will go back to the basics in order to help you make a good choice and invest your hard-earned money into something that totally worth it.
Let's start with the main differences between hardwood and softwood! As you may know, wood species are mainly divided into two categories – hard- and softwood. The difference between the two is the amount of time it takes the tree they come from to grow. With that being said, hardwood comes from slow-growing trees, while softwood timbers are made out of evergreen or coniferous trees that grow quickly.
The truth is that both hardwood and softwood species are great for the construction for outdoor life, they still behave differently when installed in outdoor environments. In general, hardwood can survive all the struggles Mother Nature decide to send to it and will look better as the years go by, just like beautiful women and good wine. Softwood is not that tough, though, however its cheaper price is very tempting and really budget-friendly. With that being said, whether you are going to choose on softwood or hardwood, it all depends on your individual requirements and needs.
Stay tuned for part two of the series, where we are going to talk a bit more about the best hardwood choices for your decking as well as the latest trends in outdoor wood flooring!